Don't Miss Out on 2020 Show Offers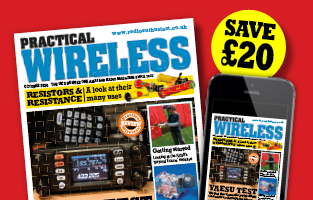 Practical Wireless Subscription
Subscribe to Practical Wireless this month and save over £20 off the cover price. Pay just £2.83 an issue with this offer
RadioUser Subscription
Subscribe to Practical Wireless this month and save over £20 off the cover price. Pay just £2.83 an issue with this offer
Joint Subscription
Subscribe to both Practical Wireless and RadioUser this month and save over £7.47 off the cover prices every 3 months.
Rigol DSA815-TG Spectrum Analyser, Lowest Ever Price!
The Rigol DSA800 series of spectrum analysers are small, light weight, easy to use and great value for money. The quality, performance and features of these instruments, including the high definition colour LCD display and various remote communication interfaces, make these spectrum analysers highly versatile
Read more/less

– Ideal for various environments such as R&D laboratories, education, manufacturing and the home-lab of the electronics enthusiast. A Rigol DSA800 series spectrum analyser, Rigol S1210 EMI pre-compliance test PC software and the TEKBOX range of EMC pre-compliance test equipment (near-field probes, LISNs and TEM cells) form a powerful and affordable system for EMC pre-compliance tests – An effective de-risking strategy, potentially saving a small fortune and project delays due to re-tests at an EMC Test House. Choose a Rigol DSA800 spectrum analyser with built-in tracking generator and you'll have the capability of making (forward and reverse) transmission measurements (e.g. Measuring the frequency response of filters or amplifiers). Add a Rigol VSWR Bridge and you'd have the additional capability of measuring input or output return loss (e.g. Impedance matching and antenna tuning). The Rigol DSA800 series spectrum analysers have several other options available to enhance the capability and user experience even further. Whatever configuration you choose, we think that you'll be impressed by the powerful combination of quality, performance, functionality and value for money. Features: Frequency range from 9kHz to 1.5GHz Built-in tracking generator Displayed average noise level (DANL) <-155dBm/Hz typ. with preamplifier on Minimum resolution bandwidth (RBW) 10Hz Phase noise <-80dBc/Hz @10kHz offset Level measurement uncertainty <1.5dB nom. AM/FM demodulation function 8″ (800 x 480) high-definition display Linear and logarithmic frequency axis Connectivity: LAN(LXI), USB Host & Device PictBridge support Compact size and light weight Supplied with… UK & European mains leads, quick guide Optional PC software… Ultra Spectrum, S1210 EMI Pre-Compliance Test Other options include… VSWR bridge (1MHz to 3.2GHz), EMI filter & quasi-peak detector, advanced measurement functions, signal seamless capture, USB to GPIB module, rack mount kit, soft carry bag, RF transmitter demo kit, RF receiver demo kit, RCL standard calibration

Click here for purchasing details
Hamfest Offers!
Virtual Ham Fest at Martin Lynch & Sons from 25th – 27th September.Special offer: Click here 50% off shipping for ALL orders.
Siglent SDS1202X-E Digital Oscilloscope, Best Seller!
Siglent's new SDS1000X-E Series Super Phosphor Oscilloscope is available in 100 and 200MHz bandwidths and 2 or 4 analogue channels. It has a maximum sample rate of 1GSa/s and a standard record length of 14 Mpts. For ease-of-use, the most commonly used functions can be accessed with its user-friendly front panel design.
Read more/less

The SDS1000X-E Series employs a new generation of SPO (Super Phosphor Oscilloscope) technology that provides excellent signal fidelity and performance. The system noise is also lower than similar products in the industry. It comes with a minimum vertical input range of 500 uV/div, an innovative digital trigger system with high sensitivity and low jitter, and a waveform capture rate of 400,000 frames/sec (sequence mode) The SDS1000X-E also employs a 256-level intensity grading display function and a colour temperature display mode not found in other models in this class. SIGLENT's latest oscilloscopes offering supports multiple powerful triggering modes including serial bus triggering. Serial decoding is free and includes IIC, SPI, UART, CAN and LIN. History waveform recording and sequential triggering enable extended waveform recording and analysis. Another powerful addition is the new 1 Mpt FFT math function that gives the SDS1000X-E very high frequency resolution when observing signal spectra. The new design also includes a hardware co-processor that delivers measurements quickly and accurately. The features and performance of SIGLENT's new SDS1000X-E series cannot be matched anywhere else in this price class. Intelligent trigger: Edge, Slope, Pulse, Width, Window, Runt, Interval, Timeout (Dropout), and Pattern Free serial bus triggering and decoding: IIC, SPI, UART, RS232, CAN and LIN Video triggers and supports HDTV Low background noise and 500 μV/div to 10V / div voltage scales 10 types of one-button shortcuts, supports Auto setup, Default, Cursors, Measure, Roll, History, Display/Persist, Clear Sweep, Zoom and Print Segmented acquisition (Sequence) mode, dividing the maximum record length into multiple segments (up to 80,000), according to trigger conditions set by the user, with a vert small dead time segment to capture the qualifying event History waveform record (History) function, the maximum recorded waveform length is 80,000 frames Automatic measurement function on 38 parameters, supports Statistics, Gating measurement, Math measurement, History measurement, and Ref measurement 1 Mpts FFT True measurement and Math can use all 14 Mpts of memory The preset key can be customised for user settings or factory "defaults" Security Erase mode Highspeed hardware based Pass/Fail function Lage 7-inch TFT-LCD display with 800 * 480 resolution Multiple interfaces types: USB Host, USB Device (USB-TMC), LAN (VXI-11), Pass/Fail, Trigger Out Supports SCPI remote control commands Multi-language display and embedded help Browser control/onboard webpage for software free monitoring (4 channel models only)
NEVADA HAMFEST OFFER!
Save £100 when you buy either the new Icom IC9700 or IC7300 transceiver. Simply enter this code at checkout HAMFEST100. Offer valid from 25th Sept to 10th October 2020. Not valid for any other product.
bhi Hamfest Sale! 25th Sept – 28th Sept 10% discount! Use code bhi10
Don't put up with noise and interference any longer…
…Hear clearly and listen stress free…
…Get bhi DSP Noise Cancellation Product!
Read more/less

bhi manufacture a range of DSP noise cancelling products to suit most setups. If you use an extension speaker then one of our in-line DSP noise cancelling units would be suitable. The fully featured Dual In-line is an excellent choice with a range of connection options. Output options are a 7W mono speaker, stereo line level or 3.5mm stereo headphone. The smaller Compact In-Line module is more suitable for portable use with headphones, but it will drive a small passive speaker. Both these in-line units require a 12V DC supply and the Compact In-line unit can also be powered by 2 x AA batteries. If you suffer from hearing loss then maybe one of our parametric equaliser units would be a good choice. We offer two basic versions, EQ20/EQ20B. Both have 10W audio and parametric equalisation and are suitable if you don't suffer with too much noise but want to fine tune your receive audio to suit your own hearing. There are two versions with 10W audio, parametric equalisation and bhi DSP noise cancelling technology, EQ20-DSP/EQ20B-DSP. These units are great if you suffer with noise problems and weak signals as they will help to clear up your noisy receive audio making it clearer and more intelligible, which you can then fine tune even further with the parametric equaliser. If you don't have an extension speaker then one of our standalone amplified DSP noise cancelling speakers would be a good choice. The new NES10-2MK4 is a compact DSP noise cancelling speaker which incorporates the latest high performance bhi DSP noise cancelling technology. It has simple controls on the top of the speaker and has a quality 5W audio amplifier with DSP noise cancelling from 8 to 40dB. The other option is the larger DESKTOP base station 2-way cabinet style DSP noise cancelling speaker. This speaker comprises a 4" bass driver and a 1" tweeter unit with a 10W amplified bhi DSP noise cancelling unit. It has two intuitive rotary controls which make it very easy to use and set up to your own operating preferences. Click here for more information or to place an order or call us on 01444870333 or contact one of our authorised dealers.
Waters & Stanton HAMFEST OFFER - AN EXTRA 5% OFF our already discounted web prices!
At Check-Out enter the Discount Code - NEWARK5.
Check our Great Web Prices. 5% Discount applies to ALL items on the W%S website. (IC-705 excluded)
OFFER ENDS 10th OCTOBER
Radio Enthusiast Book Store Offers
Raspberry Pi Explained
They have become extremely popular and are selling well outside the original target market including in Amateur Radio.

RRP: £15.99

Now: £11.99

Buy the book here
SDR
Software Defined Radio sets out to explain the basics without getting to technical and is written to help you too get the most out of your SDR. It will even help you decide what to buy.

RRP: £14.99

Now: £11.24

Buy the book here
60 Antennas
Setting out a huge array of designs that the home constructor can attempt, and want to build.

RRP: £14.99

Now: £11.24

Buy the book here

Stealth Antennas
Providing a range of antenna solutions from using house rain gutters and drain pipes, or a magnetic loop in the loft, through to a tuned loop around the window frame

RRP: £14.99

Now: £11.24

Buy the book here
Sigint
An enjoyable and highly informative book, which should be of interest to anyone who likes to read about the First and Second World Wars, as well as those whose main interests lie in signals and codes

RRP: £10.99

Now: £8.99

Buy the book here
Practical Wireless 2020 Archive
Pre-order your Practical Wireless Archive CD containing all issues published in 2020 available in a handy CD ROM. Subscribers save 50%!

Click to pre-order
RadioUser 2020 Archive
Pre-order your RadioUser Archive CD containing all issues published in 2020 available in a handy CD ROM. Subscribers save 50%!

Click to pre-order